Times have changed, and so have parents' and students' behaviour in researching for a school or university. In short, schools and universities have to adapt their marketing strategy to fit with the current times. However, there are two challenges that have to be addressed before they can gain the attention of their target audience:
The change in the buyer's journey
Connecting with Gen Z
According to a survey by Youvisit.com, the number of visits by parents and potential students to schools and higher learning institutions have been noticeably decreasing in the past few years.
In fact, this same trend has occurred in Malaysia among Xcalibur360's clients and confirmed by two of Malaysia's top education portals, Schooladvisor.my and Afterschool.my.  This shift in behaviour is largely caused by Gen Z's growing dependency on the internet for information. Instead of visiting a campus to learn more about the school and its offerings, people get to know more about their institution of interest through the internet.
Various marketing analysts such as Mcallister Marketing and even LinkedIn have described how the Internet has taken over the traditional Buyer's Journey, particularly in the awareness and consideration stage. Consumers are made aware through extensive and targeted online advertising, then take the time to research and make their considerations.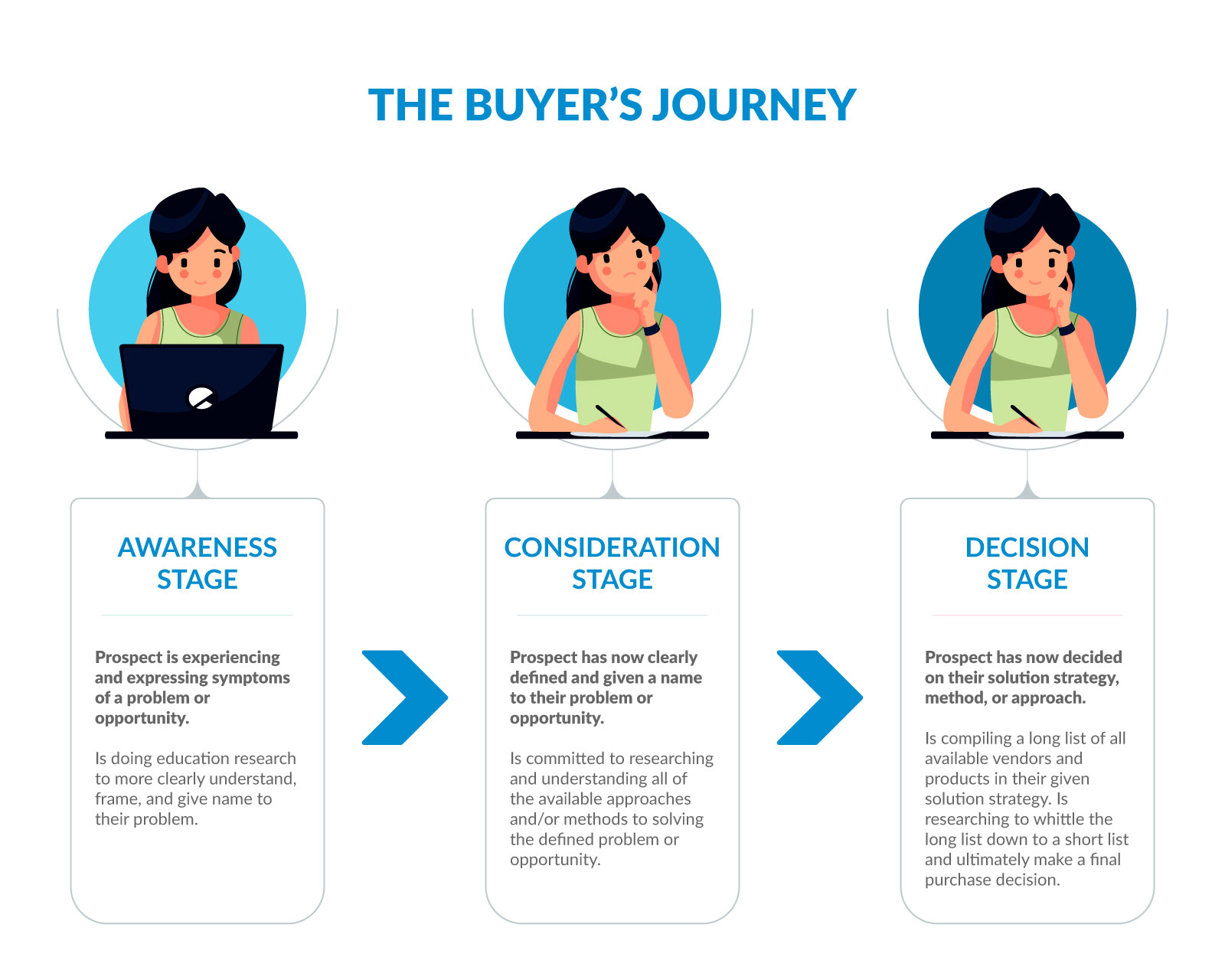 Besides that, the internet has desensitised the younger generation towards mere information and facts (flat media); they seek a more meaningful connection with their potential schools, thus responding better to immersive content. For example, Hilton Suites Brands launched a 360 social campaign game that awarded winners with a free weekend stay. The campaign garnered 7.7 million impressions and 1.88 million video views. For Christmas 2019, The Coca-Cola Company successfully bonded with its consumers with some holiday magic by making their mascot bears come alive with AR technology.
Hence, as a learning institution, it is crucial to transform your marketing techniques to ensure you can reach this group of students and convey your institution's culture and brand story effectively online. One solution to this problem comes in the form of virtual tours with digital guide, also known as curated virtual tour.
Reaching target audiences at the click of a button
Techopedia.com defines a virtual tour as the simulation of an existing location with the help of sequential videos and still images. Other multimedia elements like music, sound effects and floor plans can also be used. Virtual tours help present views to inaccessible areas and provide an alternative to fieldwork when expenses, time or logistics are an issue for people. Tourist attractions, museums, art galleries, property companies and learning institutions have started using virtual tours for their respective purposes.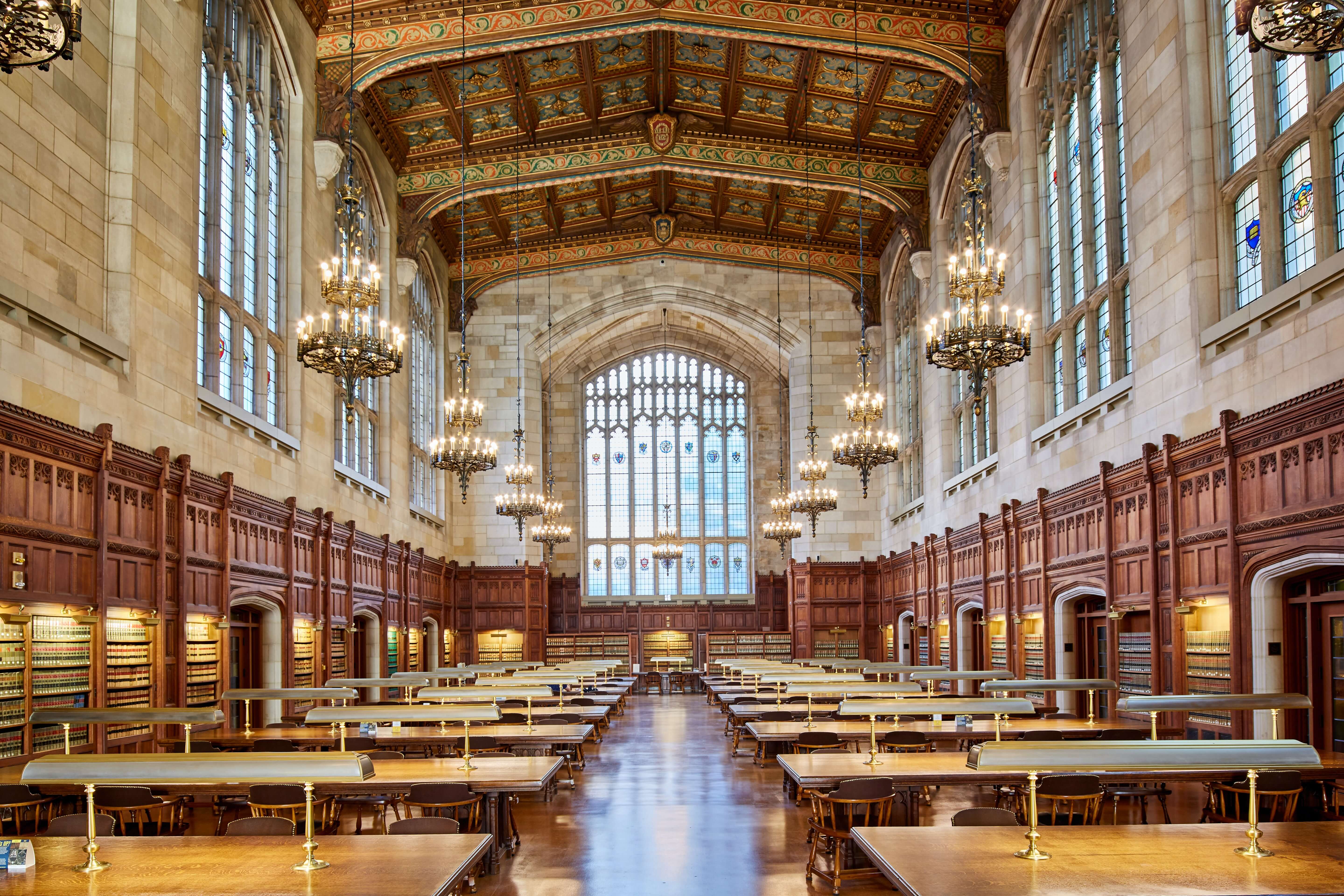 Showing off your institution through a curated virtual tour creates a more personal experience for prospective students – kicking their first impressions of your school off to a great start.
Virtual tours are no stranger to Malaysian institutions and organisations. Learning institutions such as Alice Smith School, Matrix Global Schools, Monash University Malaysia and International Medical University have utilised virtual tours for some time already. However, these are mostly conventional virtual tours, which widely differ from curated virtual tours.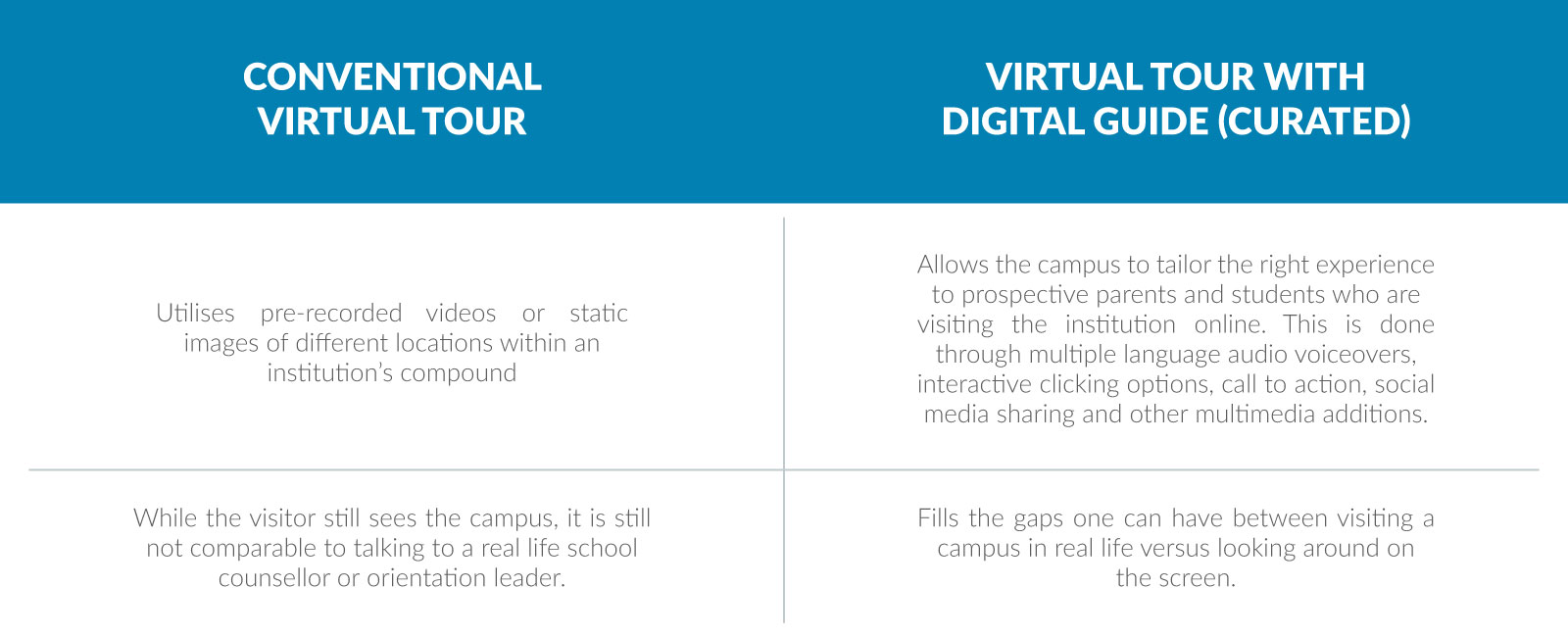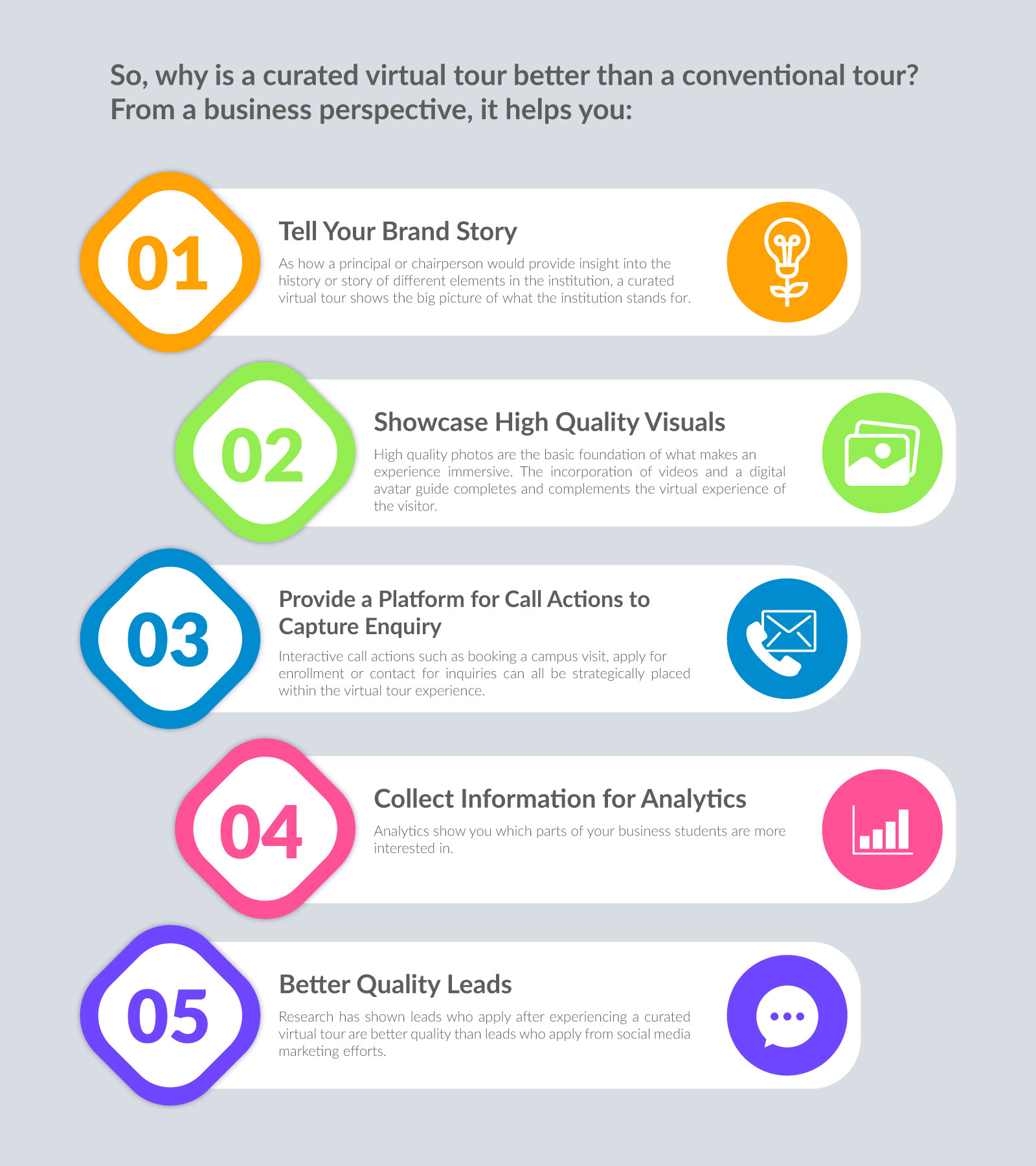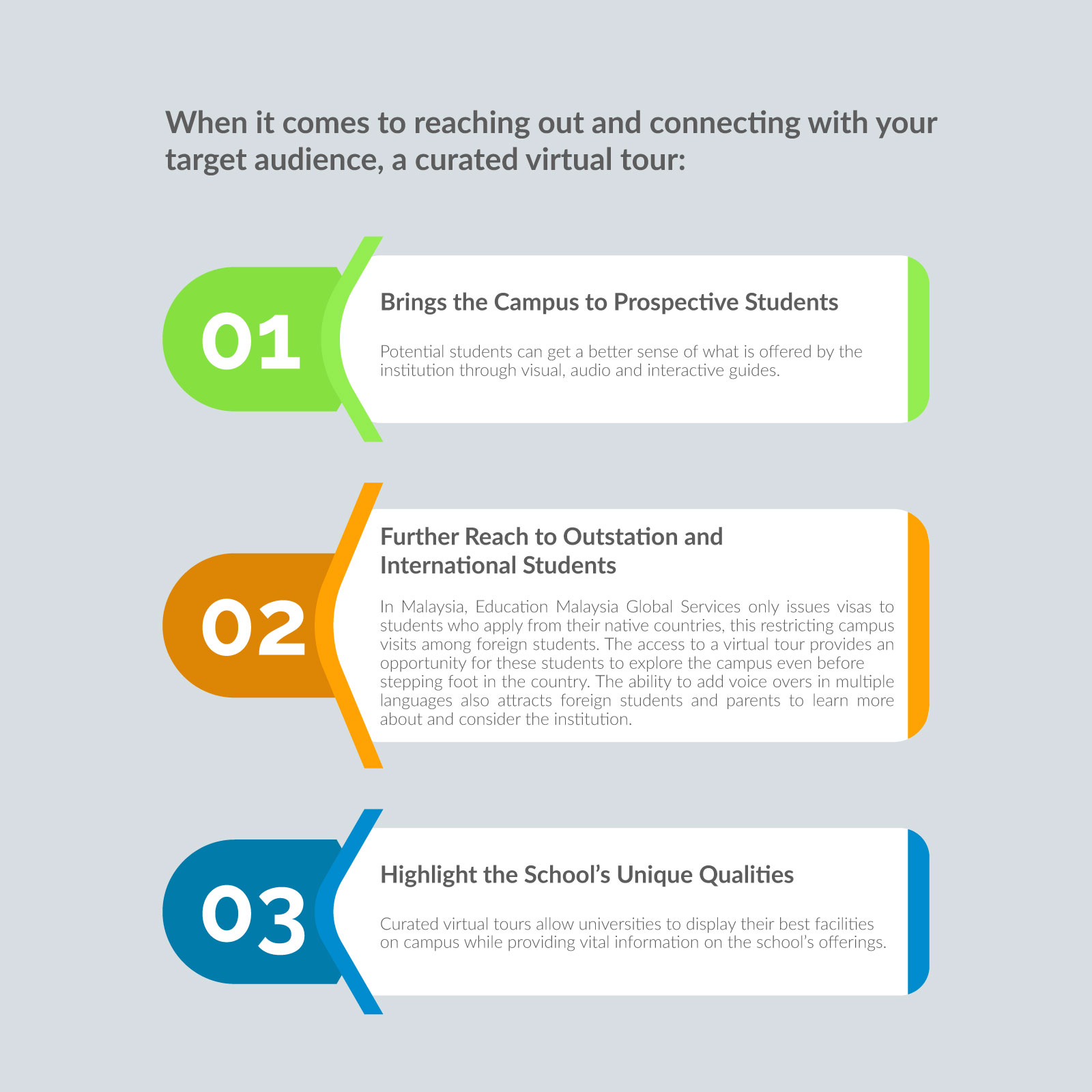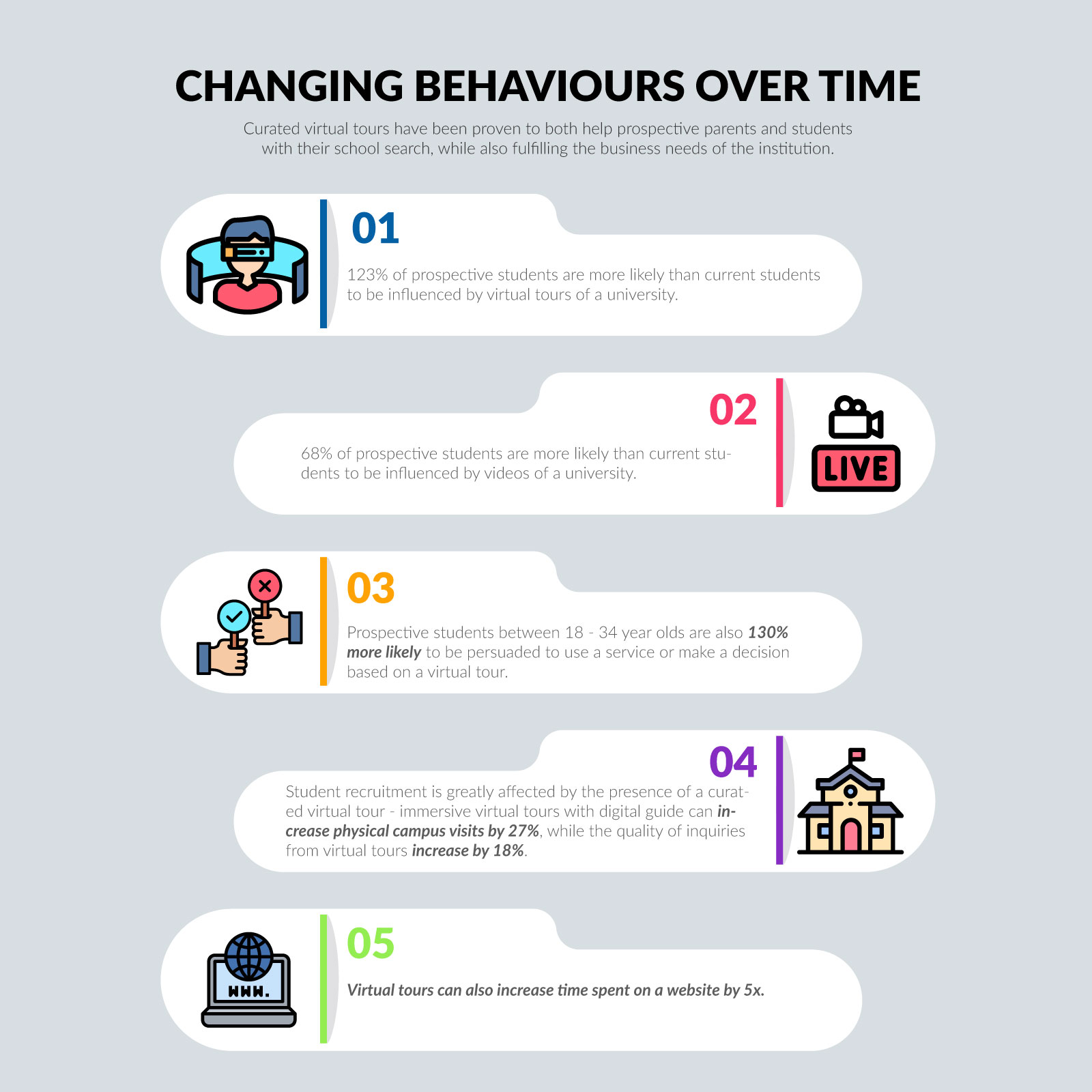 New marketing techniques for new trends
There is little to lose when trying out new marketing concepts for your institution, especially as society grows in dependency towards the internet and virtual technology. Engagement for 360 virtual tours is higher compared to flat images, and there is a variety of things you can do to further reach your prospects. You can collect quality leads via strategically placed forms, and boost your SEO performance with a 360 virtual tour function on your "Google My Business" page.
You can also promote your institution on multiple platforms – Facebook 360, Youtube 360 website, landing page, official website and partner websites. Here are examples of what you can do with your virtual tour material online: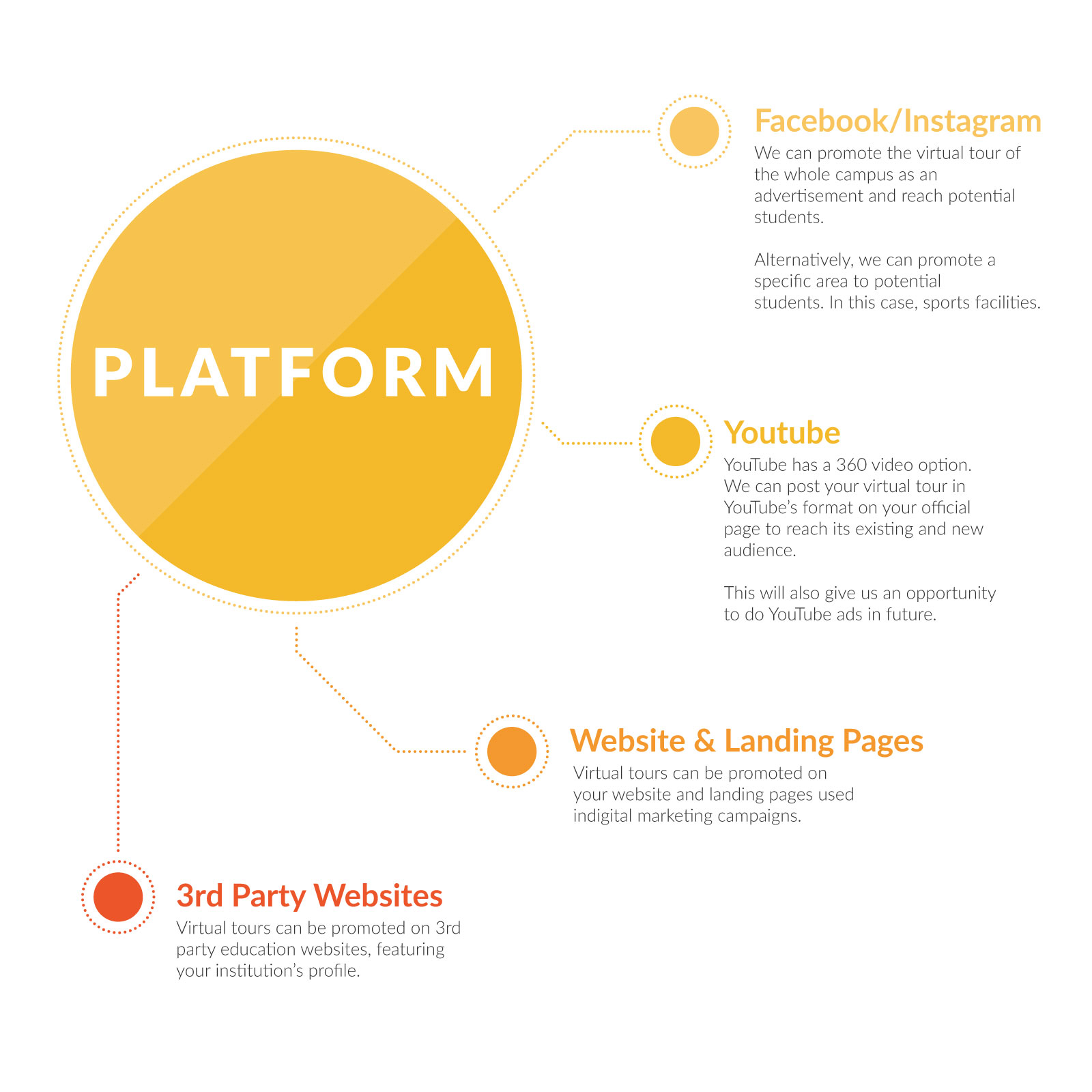 To find out more about getting a curated virtual tour with digital guide for your institution's website, and how it will improve your overall online presence and fulfil your business goals, Xcalibur 360 is here to answer your questions. Contact us at xcalibur360.com.